Cost of Dental Implants – Lacey, WA
Your New Smile Expenses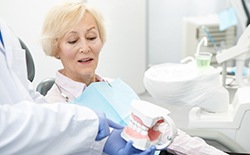 If cost is a substantial factor in your decision to receive dental implants, you may be tempted to concede to a more affordable option like a fixed bridge or regular dentures. But what if discovered that this superior form of tooth replacement is actually more cost-effective than originally thought? At Peterson & Cammack Dentistry, we understand this type of treatment can be expensive; however, with a clearer understanding of which factors make up the cost of treatment, you will soon realize that dental implants can be a feasible option that will have you reaping the benefits for a lifetime. Contact our office today and let us help you navigate the financial aspects of treatment.
Types of Dental Implants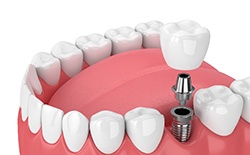 Are you missing one tooth or all your teeth? If you're worried that the number of teeth missing will dictate whether you can receive dental implants, don't be! This versatile treatment method is capable of replacing as few or as many teeth as you need.
Single Tooth Implant – For a single missing tooth, our team will recommend an implant-retained dental crown. This will include one titanium implant, metal abutment, and custom-made crown to restore your smile.
Implant Bridge – Should you be missing two or more consecutive teeth, we can place two implants into the vacated sockets before securing a customized dental bridge to eliminate the gaps and have you seeing a healthier, more beautiful smile.
Implant-Retained Denture – Using between 4 and 6 dental implants, this is considered the be the costliest restoration. However, when compared to traditional dentures, it offers a more cost-effective solution in the long run.
What Are the Stages of Dental Implant Treatment?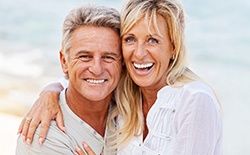 The timeline to receive dental implants can vary for each person but on average, it typically takes between 3-6 months. The process itself takes time and begins with an initial consultation with your dentist in Lacey. Not only will we examine your oral cavity and facial structure with the help of digital X-Rays and specialized equipment, but we will also recommend any pre-implant procedures should you need them (i.e. bone graft or sinus lift).
After receiving the green light for surgery, an oral surgeon will place the designated number of implants into your jawbone before allowing you to return home and recover for the next 3-6 months. Once you are fully healed and the implants have fused with your bone and surrounding tissues, you will return to have your custom-made restoration secured into place.
The entire process occurs in stages, each with its own fee. During your consultation, our team will go over this information to give you a better idea of how each phase will incorporate into the overall cost of treatment.
Are Dental Implants Worth the Investment?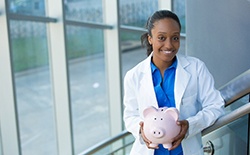 If all you do is look at the price tag associated with your individual treatment plan, you may quickly answer "no." But it's important that you look beyond this number. Dental implants have the ability to change and improve your quality of life. Missing teeth can wreak havoc on your smile if left untreated, resulting in bone and tooth loss as well as facial changes and even health-related problems. By choosing a solution that will not only enhance your smile's aesthetics but also continue to stimulate your jawbone and keep your oral health in optimal condition, these are benefits that cannot be achieved with other, more traditional solutions.
Does My Dental Insurance Cover Dental Implants?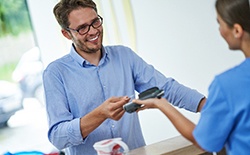 Most dental insurance companies do not currently cover dental implants; however, that is changing as more begin to realize the necessity of this type of restorative treatment. The only way to know is to contact a representative from your insurance company and talk to them about coverage. If you are unsure of what questions to ask or would prefer a member of our team work on your behalf, let us know, and we will be happy to get you the answer you need.
No matter if insurance agrees to cover part or all of your treatment, our team is available to discuss additional payment options to make dental implants a possible solution for you.