Dental Crowns & Bridges – Lacey, WA
Custom-Fitted Restorations That are Built to Last
According to the American College of Prosthodontists, approximately 178 million people in the United States are missing at least one tooth. Although anyone at any age can have a missing tooth—the causes range from decay or injury to gum disease or cancer—the condition is more likely to occur among older people. And as more and more baby boomers march toward retirement age, the likelihood of tooth loss increases. We can rebuild your smile with dental crown and bridges in Lacey, WA.
Why Choose Peterson & Cammack Family & Cosmetic Dentistry for Dental Crowns & Bridges?
CEREC Same-Day Dental Crowns Available
We Proudly Accept Dental Insurance
Convenient Scheduling for Entire Families Available
Tooth Replacement with Dental Crowns & Bridges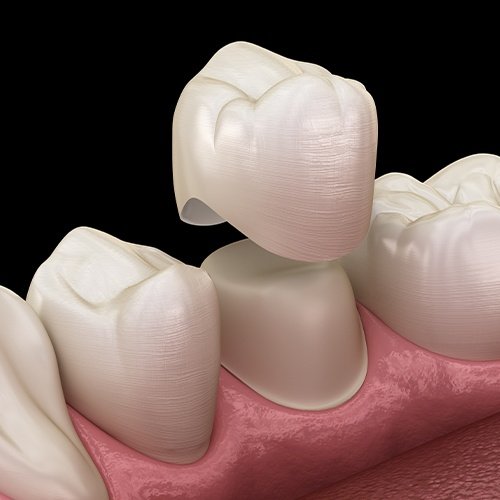 Replacing missing teeth is important to your oral health, your confidence and your overall health. Even one missing tooth can threaten your mouth with the possibility of gum disease, shifting teeth and an improper bite. Tooth loss can make maintaining a nutritious diet more difficult. You may not be able to enjoy fresh fruits and vegetables, which provide much needed vitamins and minerals. Finally, many people with missing teeth are reluctant to smile or talk because they know that people will see the gaping hole in their smile.
At Peterson & Cammack Family & Cosmetic Dentistry, we want patients to be proud of their smiles. That's why we encourage people to take action when their smile is compromised by missing teeth. One of the best tooth replacement options for people who are missing one or more consecutive teeth is a dental crown and bridge. Dental crowns are secured to teeth on either side of the gap in your smile. Then, a false tooth or a series of false teeth are attached to these crowns in order to replace missing teeth.
Dental Crown & Bridge Procedure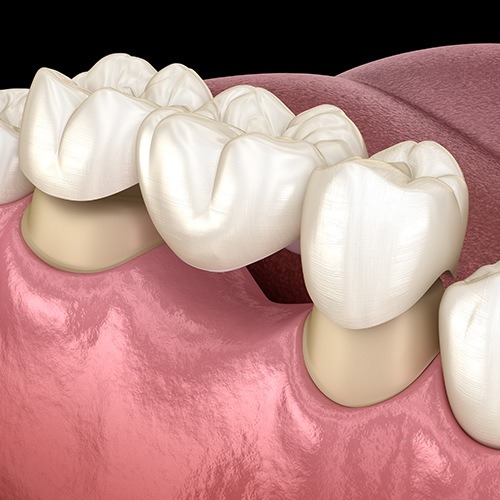 To prepare your teeth for a crown and bridge, restorative dentist, Dr. Peterson or Dr. Cammack will need to reduce the size of the abutment teeth, or the teeth that will be outfitted with crowns. We will carefully examine these teeth to make sure they are sturdy enough to support a crown. If they prove to be weak or of insufficient size, we can build them up. Alternatively, a tooth can be removed and replaced with a dental implant to support the crown. Your Lacey dentist will determine what the best choice is for you.
Once the abutment teeth are prepared, you'll wear a temporary crown and bridge while the permanent restoration is fabricated in our dental lab. When the permanent bridge is ready, you'll return to our Lacey dental office where the temporary will be removed and your custom-designed bridge will be affixed. This bridge will fit precisely alongside your other teeth and will look completely natural. You'll care for your new dental bridge by brushing and flossing just as you do with your natural teeth. We'll give you a special bridge floss threader so you can floss the gum tissue lying underneath the bridge's false tooth.