September 7, 2018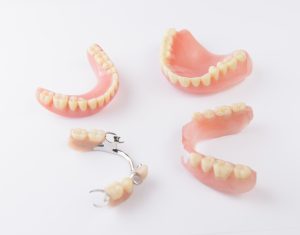 Have you recently started wearing dentures in Lacey? Congratulations! You're well on your way to enjoying all the advantages they have to offer, including increased self-confidence, a great looking smile, and the ability to eat comfortably. Of course, all prosthetic appliances take a bit of getting used to, so it may take up to a month to fully experience all the benefits of dentures. Rest assured, however, that there are over 35 million Americans who have successfully made it through this adjustment period and gone on to have a great denture experience. To help get you started, here are 4 great strategies for making this transition as easy as possible!
1. Have Patience
It can feel frustrating to invest time and money into getting dentures, only to feel challenged by eating, drinking and speaking clearly after the procedure. As much as possible, try to be patient and remember that this initial period of learning how to function with dentures is temporary.
In the meantime, to help you adjust to eating, be sure to choose nutritious foods that are soft and easy to chew. Here are some ideas:
Avocado
Scrambled eggs
Protein smoothies with yogurt and fruit
Porridge or oatmeal
Peanut butter
Mashed potatoes
Creamed soup
Hummus
Mashed bananas
Plain yogurt
Applesauce
Cottage cheese
Within a few weeks, you'll be able to eat a wider variety of solid foods – just make sure to cut everything into smaller pieces.
Also, it's not uncommon to have gum tenderness at first, so it's a good idea to remove your dentures about every 3-4 hours to give your tissues a break. You can also swish with salt water a few times each day to help soothe your gums.
2. Try Different Adhesives
You might think that all denture adhesives work the same, but each one has differences in texture and consistency that appeal to different people. Take the time to experiment with the adhesive that you like the best. You'll be using it every day, so it will be worth the effort.
3. Sing To Improve Your Speech
Your tongue, lips and teeth have been working together for a long time to help you speak clearly, so it's natural that it will take a little time to perfect your speech after getting new dentures.
One surprising trick is to sing throughout the day for the first few weeks. Try to sing your favorite song slowly and smoothly and you'll be back to speaking clearly again sooner than you think.
4. Follow Your Dentist's Instructions
It's important to follow your dentist's instructions after you've had your extractions (and throughout the entire denture process). Doing so will help your tissues heal better and faster, which will make your adjustment period much easier and more comfortable.
Also, don't hesitate to contact a dentist in Lacey if you're experiencing any problems. They can advise you on what to do at home or might recommend that you come in for an adjustment.
Dentures are a wonderful way to restore both your smile and self-confidence. By using these 4 tips and tricks, you'll be able to get the most out of them as soon as possible!
Comments Off

on Get the Top 4 Tips For Adjusting To Life With Dentures in Lacey!
No Comments
No comments yet.
RSS feed for comments on this post.
Sorry, the comment form is closed at this time.