Orthodontics – Lacey, WA
Straighten Your Teeth
& Improve Your Oral Health
Straight teeth aren't just more beautiful, they're also healthier. At any age or stage of dental development, we're dedicated to helping patients achieve their healthiest smiles. At Peterson & Cammack Family & Cosmetic Dentistry, we offer both traditional braces and ClearCorrect alignment tray orthodontics. If you're interested in finding out more, call our dental office to schedule your orthodontic consultation today. We'll review your case, capture diagnostic images, and create a personalized plan for orthodontics in our Lacey, WA dental office to perfectly align your smile.
Why Choose Peterson & Cammack Family & Cosmetic Dentistry for Orthodontics?
Custom-Tailored Orthodontic Treatment
Treatments for Teens & Adults
Flexible Additional Financing Available
Traditional Braces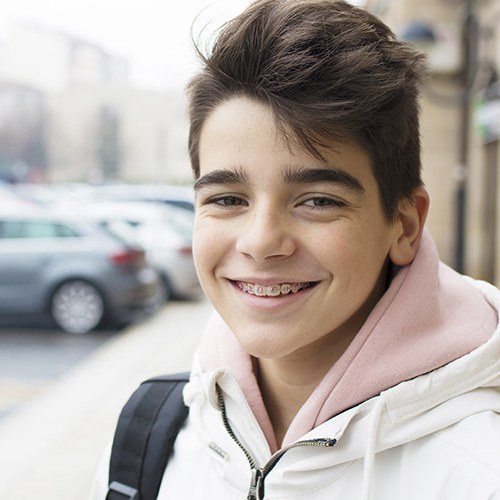 Traditional braces use brackets and wires attached to teeth to shift smiles into alignment. Brackets are cemented onto the front surfaces of teeth. Then, wires are attached to the brackets, and these wires are adjusted to place pressure on the smile and move teeth into their ideal position. For patients with advanced bite alignment concerns like over, under, or crossbite, elastics may be needed. These elastic bands are attached to the brackets where they place pressure across the smile line gently shifting your bite into position, so it fits together and functions flawlessly. The entire treatment process usually takes between 18 to 24 months.
Learn More About Traditional Braces
ClearCorrect Braces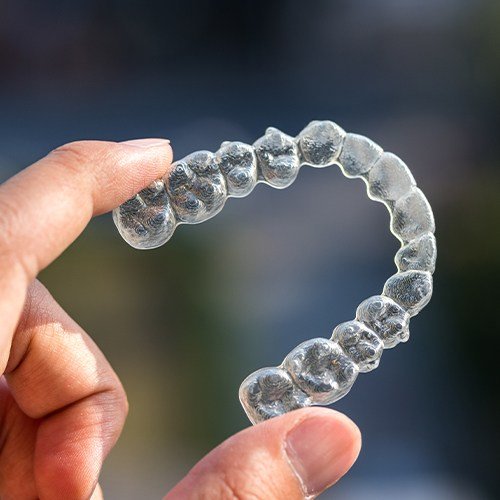 ClearCorrect is an alignment tray orthodontic system. Like brackets and wires, aligners place pressure on teeth to gently shift them into their ideal position. Rather than metal brackets and wires, the ClearCorrect orthodontic system uses a series of plastic alignment trays. Each set of aligners represents the position of the smile one step closer to the desired end result. Patients wear these aligners for about two weeks at a time. Then, they exchange their current set of alignment trays with the next set in the series. Within about 12 months, patients are able to achieve their flawless, functional smile alignment without the hassle of traditional bracket and wire braces. You'll shift your teeth into their ideal alignment and all anyone will ever see is a beautiful smile.
Learn More About ClearCorrect Braces
Retainers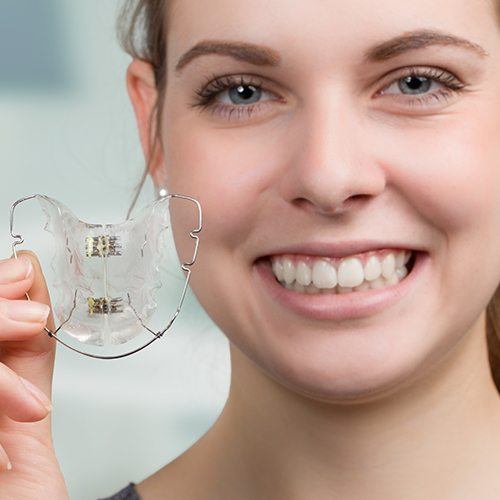 Following alignment using traditional braces or ClearCorrect, you'll need to wear a retainer daily for a specifically recommended amount of time based on your unique orthodontic situation. Wearing your retainer as directed is the only way to ensure the longevity of your orthodontic treatment. When teeth move into their new positioning during orthodontic treatments, the supportive bone and gum tissues need to be reshaped and reattached to the tooth roots to anchor the smile in its new position, and wearing a retainer allows these supportive tissues to reset properly.
SureSmile® Braces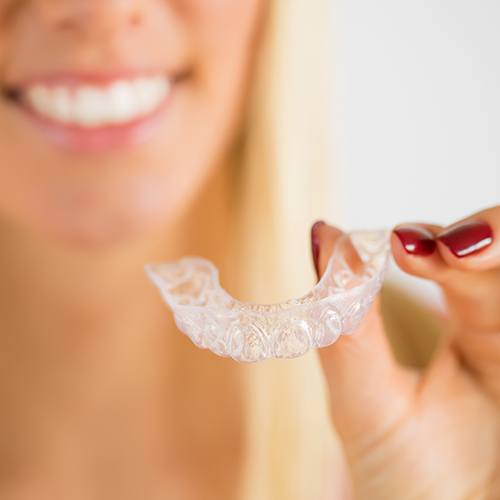 With SureSmile braces, you can reduce your orthodontic treatment time by 33%! This process uses advanced technology that relies on robots to bend and customize your archwire as well as your own body temperature to move your teeth more precisely over time. You can expect a more enjoyable experience that produces results much quicker than traditional metal braces. Not to mention, SureSmile braces are more comfortable to wear because of the fewer adjustments needed by your trusted dental expert.
Learn More About SureSmile Braces
Other Cosmetic Options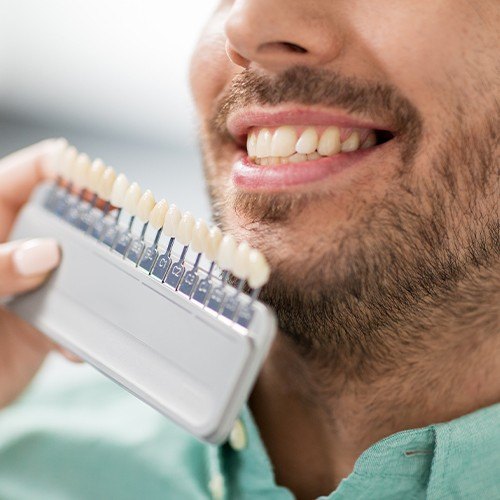 If your smile functions properly but you have teeth that are unevenly positioned with large gaps or tight spacing, we may be able to use less invasive cosmetic dentistry solutions to deliver the desired results. Porcelain veneers are a popular cosmetic treatment that are often referred to as instant orthodontics because a skilled cosmetic dentist can completely transform the smile line using this one simple treatment. Direct bonding using tooth-colored filling material is another solution that may be an effective treatment to close small gaps or reshape teeth.