Dental Implants – Lacey, WA
Modern Dental Implant Tooth Replacements
Millions of people in America are missing one or more teeth, a problem that is most commonly associated with advanced gum disease. When a tooth is lost, even the simplest of activities – like speaking clearly or chewing certain foods – become a daily challenge. Fortunately, today's advanced restorative dentistry techniques allow our doctors to replace missing teeth in a way that is permanent and lifelike: dental implants in Lacey, WA.
If you'd like to learn more about dental implants, our team is here to help. Contact our dental office today to schedule a visit with Drs. Peterson and Cammack, and discover the difference that dental implants can make in your smile and in your daily life. We genuinely look forward to serving you. Our state-of-the-art dental office proudly serves patients from throughout Lacey, WA and the surrounding areas.
Why Choose Peterson & Cammack Family & Cosmetic Dentistry for Dental Implants?
Implants Placed & Restored In-House
In-House Placement & Restoration
Affordable Financing Options Available
What are Dental Implants?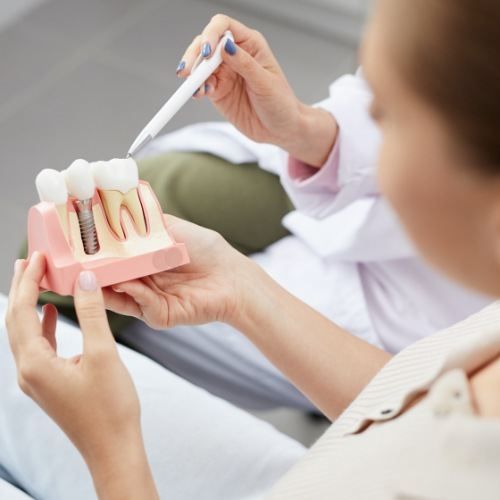 A dental implant is a tiny post (typically made from titanium due to its biocompatible properties) that is inserted into the jawbone where a natural tooth has been lost. This post will serve as the sturdy anchor for a custom restoration. Dental implants can be used to support a variety of replacement teeth options, including porcelain crowns, bridges, or dentures.
Following the placement of your implant, the bone tissue in the area begins to fuse with the metal. This process is known as osseointegration. When this process is complete, we will place a fully personalized dental restoration to the implant, thereby completing the treatment. Unlike most dental offices, our doctors perform both the surgical placement of the implant and the restoration phase, so you don't have to choose a different dental office for the different stages of your procedure.
The 4-Step Dental Implant Process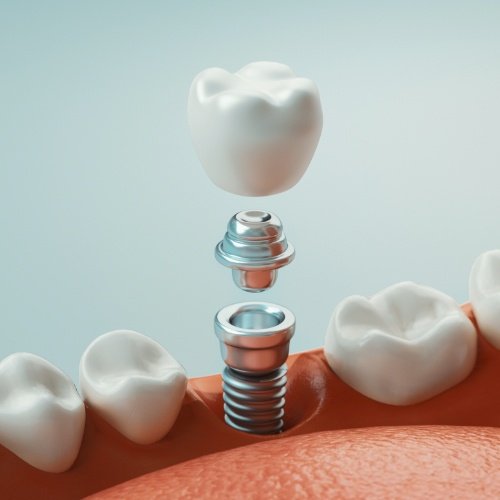 Initial Consultation. During the initial consultation, we'll capture X-rays of your mouth and conduct a thorough examination of your teeth and gums. We'll also speak with you about your medical history before walking you through the dental implant process and helping you decide whether it's the best tooth replacement treatment for you.
Dental Implant Surgery. We place dental implants in-house, so you won't have to be referred out to a specialist and a team that you don't know.
Osseointegration & Abutment Placement. After your implants have been placed, they'll undergo a process called osseointegration, where they'll fuse with your jawbone. Once that's complete, we'll attach a small metal connector piece called an abutment.
Securing the Final Restoration. After your final implant restoration is crafted, we'll secure it to the abutments to complete your smile.
Benefits of Dental Implants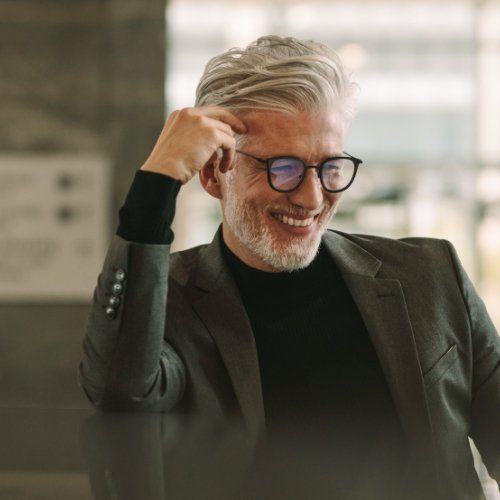 During your initial consultation with a member of our dental team, you can expect to learn more about the benefits of choosing dental implants. Apart from the permanence they offer because of their surgical placement and necessary fusing with your jawbone and surrounding tissues, you will enjoy a smile that:
Can last decades or longer – Dental implants are strong and durable tooth replacement solutions, which means with proper care and maintenance, you can anticipate a restoration that will last for many years to come. While your crown, bridge, or denture will likely need to be replaced over time, your implant post(s) can remain in place for a lifetime.
Easy maintenance – There are no necessary products or equipment you'll need to buy to keep your new smile looking and feeling its best. Instead, you can simply treat and clean your implants just like you do your regular teeth.
Improvement of overall health and oral function – Unlike a fixed bridge or traditional denture that only replaces the look of your smile, dental implants actually work to restore your oral health from the root up. Because of its surgical placement into the jawbone, it mimics a natural tooth root, meaning it will continue to stimulate the jawbone and prevent changes in your facial shape and shifting teeth.
Offers an enhanced aesthetic – Not only will you look great, but you will also feel more confident in your smile. Dental implants look and feel just like regular teeth, so no one will ever know you have artificial teeth because they blend in so beautifully with the rest of your smile.
Who Can Dental Implants Help?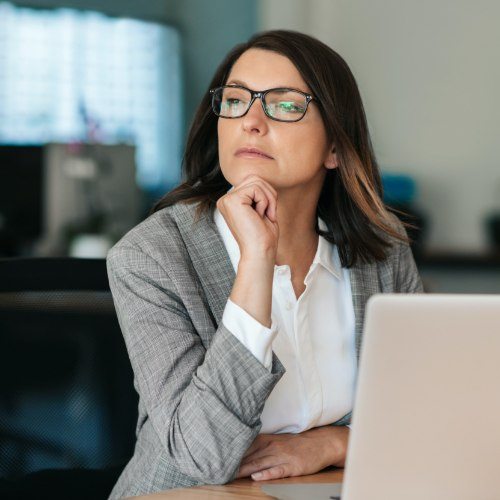 Are you missing one tooth or all your teeth? If you're worried that the number of teeth missing will dictate whether you can receive dental implants, don't be! This versatile treatment method is capable of replacing as few or as many teeth as you need.
Missing One Tooth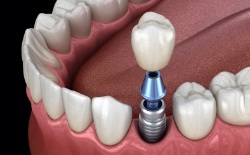 For a single missing tooth, our team will recommend an implant-retained dental crown. This will include one titanium implant, metal abutment, and custom-made crown to restore your smile.
Missing Multiple Teeth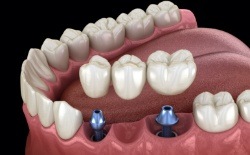 Should you be missing two or more consecutive teeth, we can place two implants into the vacated sockets before securing a customized dental bridge to eliminate the gaps and have you seeing a healthier, more beautiful smile.
Missing All of Your Teeth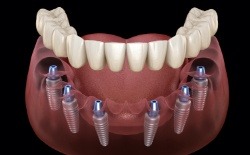 Requiring the placement of anywhere from four to eight dental implants, this is considered to be the costliest restoration. However, when compared to traditional dentures, it offers a more cost-effective solution in the long run due to its lifespan.
Understanding the Cost of Dental Implants
Knowing how much you can expect to spend on replacing your missing teeth is important if you want to feel confident and comfortable about your decision to move forward with dental implants. Because every patient is different and has unique needs, the cost of dental implants in Lacey will vary from person to person. Fortunately, with various payment options available to help you stay within your budget, you can achieve a healthier, happier smile using dental implants. Also, our dental team will help you maximize your dental insurance benefits, so you can save when it comes to paying for your new smile.
Preliminary Treatments & Dental Implant Surgery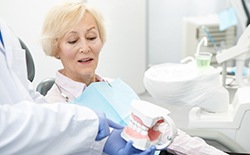 Not all patients suffering from tooth loss are able to receive dental implant surgery right away. Instead, preliminary treatments may be necessary to help ensure an optimal environment for these prosthetics. Gum disease treatment, tooth extraction, or even bone grafting or a sinus lift may be necessary before the actual dental implant process can begin. If you are required to undergo one or more of these services, they will be added to the total cost of your treatment.
Also, your dental implant surgery will require a separate fee. But instead of paying an outside specialist that you see as a result of a referral, we are pleased to place and restore implants in-house. This makes the payment process much easier, as you'll avoid having to pay a separate fee to someone outside our dental office.
The Parts of Your Dental Implant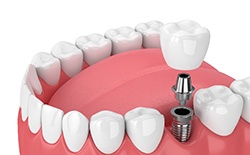 Your dental implants are also considered part of the overall cost. During your consultation, your implant dentist in Lacey will further discuss these individual components:
How many implants you will need – It is much less expensive to replace a single missing tooth than an entire arch. So, naturally, one single implant will cost less than between 4 and 8 for an implant denture.
The materials used – Because dental implants are made from different materials (i.e., titanium, zirconia), the type chosen will be factored into the overall cost.
The type of restoration – A single dental crown is less costly than a full denture, so depending on how many teeth you are missing, you will need to be ready to pay for the restoration to match.
The brand – There are multiple types of dental implant brands. While some are considered cheaper, that doesn't always mean they're better. Our dental office chooses the type of brand used, but we'll explain why it will give you the results you desire more than other, cheaper solutions.
How Dental Implants Can Save You Money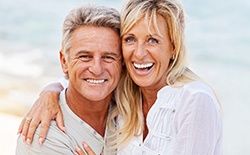 Dental implants can change and improve your quality of life. Missing teeth can wreak havoc on your smile if left untreated, resulting in bone and tooth loss as well as facial changes and even health-related problems. By choosing a solution that will not only enhance your smile's aesthetics but also continue to stimulate your jawbone and keep your oral health in optimal condition, these are benefits that cannot be achieved with other, more traditional solutions.
You'll also discover you'll save money by opting for permanent prosthetics instead of more traditional dental bridges and dentures. This is possible because:
You'll avoid paying for treatment for various systemic issues that can negatively impact your overall health (i.e., osteoporosis, diabetes, heart disease) and are commonly the result of tooth loss.
You'll avoid paying for denture adhesives to keep your prosthetics in place.
You won't need specialized cleaning solutions to ensure your teeth are healthy.
Does My Dental Insurance Cover Dental Implants?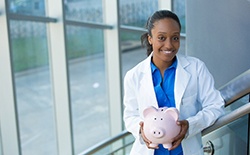 Most dental insurance companies do not currently cover dental implants; however, that is changing as more begin to realize the necessity of this type of restorative treatment. The only way to know is to contact a representative from your insurance company and talk to them about coverage. It may be possible to receive some level of coverage for preliminary treatments or your customized restoration.
If you are unsure of which questions to ask or you would prefer a member of our team to work on your behalf, let us know, and we will be happy to get you the answer you need.
Making Dental Implants Affordable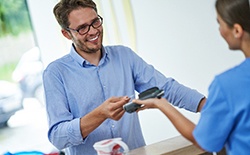 No matter if insurance agrees to cover part or all of your treatment, our team is available to discuss additional payment options to make dental implants a possible solution for you. By applying for a low-interest payment plan through CareCredit, you can minimize your expenses by committing to making manageable monthly installments toward the cost of your dental implants in Lacey. Not only will you be able to move forward with treatment, but you'll worry less about the financial obligation associated with your care.
Maintaining & Caring For Your Dental Implants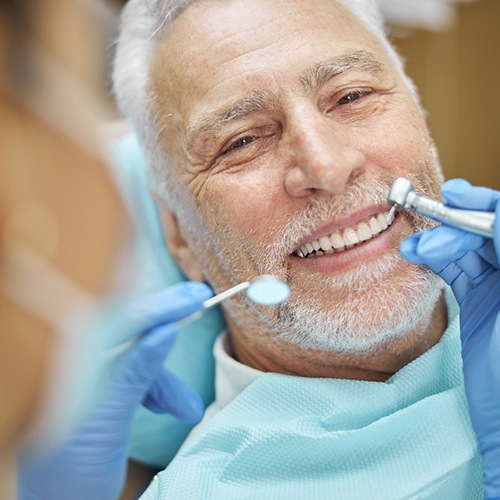 Dental implants will serve you well for decades when you take proper care of them. However, it's worth noting that oral hygiene isn't the only habit you should keep in mind going forward. Below, you can read more about a few of the most important steps to take after your dental implants have fully healed and been restored with a dedicated crown, bridge, or denture. If you have other questions or concerns about dental implant maintenance, please let us know!
Make Oral Hygiene a Priority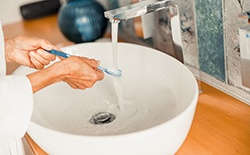 Since you won't be able to visit the dentist every day to have your teeth cleaned, you'll need to practice regular brushing and flossing to prevent plaque buildup on your tooth replacements. Brush for at least two minutes at a time twice a day and floss daily to remove plaque and food debris from in between teeth. Consider including an oral rinse into your routine to help make your hygiene more thorough.
Eat a Healthy Diet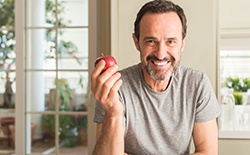 Eating a diet high in sugars and starch will only increase your risk for plaque buildup, which actively harms your gum tissue responsible for keeping your dental implant in place. Keep foods containing these ingredients to a minimum and eat more healthy options like fruits, vegetables, lean proteins, and dairy products for a more balanced diet. These foods contain essential vitamins and minerals conducive to a healthy mouth.
Break Bad Habits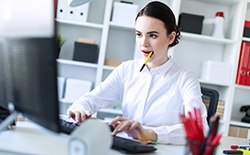 Certain habits can be detrimental to the health of your teeth, gums, and dental implants, and using tobacco isn't the only one. While you should discontinue the use of tobacco products to maintain the longevity of your dental implant, you'll also need to avoid using your teeth as a tool. For example, never try to trim your fingernails or open packages and bottles with your teeth. Use a dedicated tool for the job instead. Additionally, avoid chewing on pens, pencils, ice cubes, popcorn kernels, or hard candies as these can crack and chip teeth and dental restorations.
Protect Your Dental Implants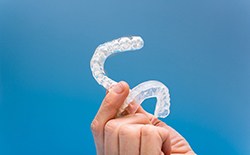 Your dental implants need as much protection as your natural teeth, which means you'll need to wear a mouthguard if you play contact sports or a nightguard if you have a teeth grinding and clenching problem while you sleep. Store-bought solutions are not going to provide the same comfort, longevity, or protection as custom-made options from a dentist, so you'll want to consider investing in one if you play sports like football, basketball, soccer, hockey, wrestling, or struggle with bruxism.
Schedule Regular Dental Checkups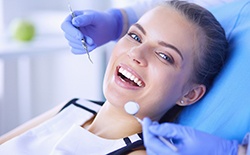 By completing a routine checkup once every six months, we can confirm that your dental implants are remaining healthy and your at-home oral hygiene is sufficiently keeping plaque and dental disease at bay. During your visit, we can also remove any calcified plaque or tartar, the latter of which can only be safely broken down by a dental professional.
Dental Implant Frequently Asked Questions
Getting dental implants in Lacey can be a lengthy process, so it's important to know exactly what you're getting into so that you can plan ahead. Below are the answers to some questions that patients frequently ask during dental implant consultations. If you have any additional concerns of your own, feel free to contact us; Drs. Peterson and Cammack are always willing to answer your questions and help guide you toward the path that's best for your smile.
Why do I need preparatory procedures before getting dental implants?
Anyone who has lost at least one tooth may be a candidate for dental implants. We will need to perform an examination to make sure the jaw has the density required to support the implant posts. If it doesn't, you may need a bone grafting procedure before implants can be considered. Also, since an advanced gum infection can eventually damage the jawbone, any form of gum disease currently present in your mouth will need to be fully treated before we can attempt an implant placement. We will let you know which preparatory procedures are necessary during your consultation.
How long do dental implants last?
Unlike other restorations, dental implants are designed to be permanent. Being made from biocompatible titanium, they are extremely durable. They also fuse with the jawbone, essentially becoming part of your body. As a result, they can easily last for 30 years or more – and in many cases, the rest of your life. That being said, each type of restoration that can be supported by a dental implant is subject to wear and tear through biting and chewing; they'll likely need to be replaced more frequently. On average, crowns, bridges, and dentures last about 5 to 15 years.
Can the body ever reject a dental implant?
It's very rare for a dental implant to fail. However, a few patients are allergic to titanium alloy, and as a result their bodies could reject the implant altogether. In other cases, the bone might not join with the implant post as it's intended to. This might be an issue with your body's ability to heal, or it could be a result of an infection. If you notice pain or swelling around your implants, or the post becomes mobile, call us right away. We can treat the problem and, if possible, attempt to place a new implant once your mouth is ready.
Does getting dental implants hurt?
While getting dental implants placed is a minor surgery, most patients report feeling practically nothing during the procedure itself. That's because the mouth is thoroughly numbed with local anesthetic first, and the jawbone also doesn't have many nerve endings. Following the treatment, the mouth may feel a little sore, but this can easily be managed with medication. If there is any swelling, a cold compress can keep it to a minimum.
Am I too old for dental implants?
Dental implants have no upper age limit! While seniors are more likely to need preparatory procedures like gum disease therapy, extractions, and bone grafts, they can still successfully receive implants and enjoy the stability and aesthetics they offer for many years to come.
Will I need to take time off work for dental implant surgery?
We recommend that most patients set aside at least one to two days off to get dental implants. This is just the average, however, and a dentist might adjust their recommendation based on a particular patient's situation. For jobs that are physically demanding, it's best if the patient takes at least three to four days off, as too much activity can prevent the surgery sites from clotting properly, reducing the body's ability to heal.
Are dental implants covered by dental insurance?
Right now, most dental insurance plans do NOT offer coverage for dental implant surgery. However, insurance can still be used to cover procedures associated with implants, such as exams, X-rays, and extractions, plus it can typically help offset the cost of the restoration that will be attached to the implant(s). Benefits can vary widely from plan to plan, so we recommend going over your policy with your provider or our team before committing to treatment so you know exactly what you'll be expected to pay.
Can dental implants get cavities?
No, because the implant itself is made of titanium, and the restoration on top will be made of porcelain, and both don't decay like natural teeth. However, keeping the implant and the area around it clean is vital, because otherwise, a patient can develop an infection known as peri-implantitis. It's a form of gum disease that can result in the implant becoming unstable and even failing, but it can thankfully be prevented with consistent brushing and flossing.