Veneers – Lacey, WA
The One-Stop-Shop of Cosmetic Treatments
You don't have to be a Hollywood actor in order to have a smile like one. Many in the Hollywood crowd—Katy Perry, Tom Cruise, Jennifer Garner, Emily Blunt and Chris Rock just to name a few—have turned to porcelain veneers to enhance their smiles and create one that's ready for a red carpet. Fortunately, this treatment is not exclusive to celebrities. With porcelain veneers, Lacey residents can also have beautiful smiles. Dr. Peterson and Dr. Cammack have created new smiles for many in the area, and they'll be delighted to do the same for you.
Why Choose Peterson & Cammack Family & Cosmetic Dentistry for Veneers?
Can Be Made from Stain-Resistant Porcelain
Flexible Additional Financing Available
Experienced Cosmetic Dentists
What are Veneers?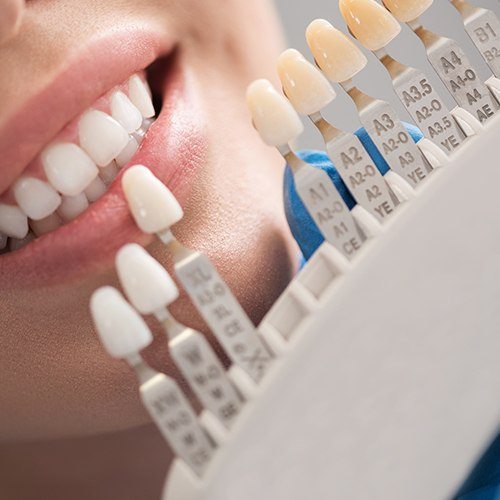 Actually, porcelain veneers have been around for several decades. These dental wonders are super thin coverings of dental porcelain that Dr. Peterson or Dr. Cammack adhesively bonds to the facial side of teeth in your smile zone. Because they are made of porcelain, dental veneers are translucent and reflect light similarly to your own teeth for a look that is shiny and natural.
What Can Veneers Correct?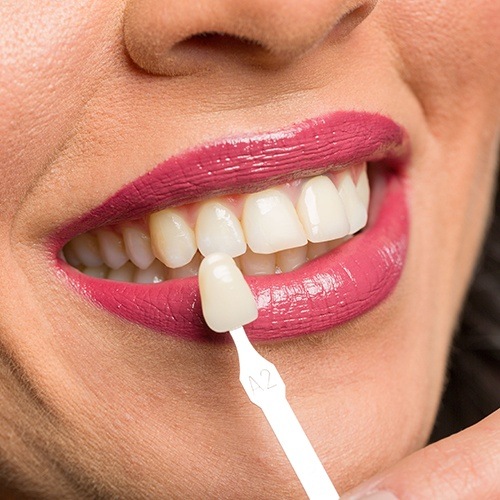 Porcelain veneers are intended to correct a variety of imperfections in your smile. In fact, dentists sometimes refer to porcelain veneers as instant orthodontics—even though they have absolutely nothing to do with braces. However, porcelain veneers can be used to make crooked teeth look straight again. In addition, they can be used to conceal teeth that are chipped, broken, cracked, misshaped, too small or irregularly spaced with wide gaps between them.
The Process of Getting Veneers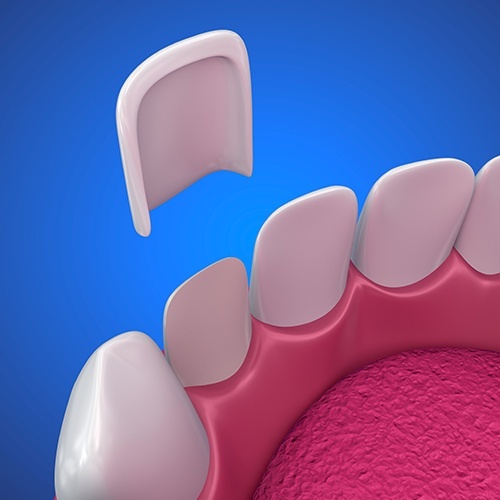 The first step toward a new smile with porcelain veneers is a thorough checkup with one of our dentists. We want to make sure your teeth and mouth are healthy before beginning any cosmetic dentistry procedure. Then, we'll collect a comprehensive set of X-rays, photos and impressions of your teeth as they are. These help us to design veneers that are the correct size and shape that fit precisely over your teeth. We'll also need to remove a slight amount of your teeth's enamel so that the veneers will fall seamlessly in line alongside your other teeth and not protrude unnaturally. While your permanent veneers are manufactured in our dental lab, you'll wear a set of temporaries to protect your prepared teeth.
The permanent set will be ready in about two weeks, at which point you'll return to our office to have each veneer precisely cemented to its assigned tooth. Together each individual veneer creates a new smile that is as strong as it is beautiful.
Veneers FAQs
When considering veneers to transform your smile, the team at Peterson & Cammack family & Cosmetic Dentistry wants to make sure you are confident in your decision. These permanent restorations are custom-made to your individual smile and are permanent, which means you cannot remove them and expect to see your previous smile. To help address any concerns you might have about the procedure and aftercare, we've compiled some common questions asked by our patients. If you do not see your question listed below or would like to schedule an appointment, contact us today.
Who is a good candidate for veneers?
Veneers are an ideal solution if you are looking to hide cracks, chips, stains, discoloration, minor gaps, or minor misalignments that keep you from feeling good about your appearance. Dr. Peterson or Dr. Cammack will examine your smile to determine if you are a qualified candidate based on the severity of the problems as well as the condition of your oral health as a whole. It will be necessary that you do not possess signs of tooth decay or gum disease, as these will need to be addressed before moving forward with your new veneers.
If I do not have veneers placed on all my teeth, how can I be sure that they will match?
Many patients who choose not to have veneers placed on all their teeth often turn to teeth whitening. By allowing our team to perform a professional teeth whitening treatment, we can ensure all of your teeth match and your veneers do not stand out apart from the rest of your smile. This will prevent others from being able to tell a difference between your real and artificial teeth.
Which foods can I eat, and which ones should I avoid with veneers?
It is not uncommon to eat softer foods in the first few days after receiving veneers; however, after a short time, you can begin to incorporate other foods into your normal diet. It is best, though, to limit or avoid hard, crunchy foods because of the risk of damaging one or more of your veneers. You can also harm your regular teeth, which is why most dentists prefer that you cut up larger, harder pieces into smaller bites.
Are there any habits I should cease when wearing veneers?
Are you a nail-biter? Do you find yourself opening packages or containers with your teeth? Do you enjoy chewing ice? These bad habits, along with smoking and chewing on pens or pencils, can put you on the fast track to earning a new set of veneers much sooner than you realize. With proper care, veneers can last a decade or longer, but if you choose to engage in poor lifestyle choices, you will find your new teeth are broken, damaged, and in need of replacement.
What can I do to take better care of my veneers?
It is best if you follow these simple tips to care for your new smile:
Brush your teeth with a non-abrasive toothpaste at least twice a day for two minutes.
Floss at least once a day but preferably more often to remove harmful debris.
Keep your regular dental checkups and cleanings every six months.
Wear a nightguard if you are prone to teeth grinding. You might also wear a sportsguard if you engage in physical activity or sports.