Sedation Dentistry – Lacey, WA
Take Control of Dental Phobia
If you suffer from dental anxiety, you aren't alone. It affects approximately 36% of the US population. In fact, anywhere from 9-20% of people avoid dental treatment due to dental phobia. The good news is that there are options available to help you get the essential dental care you need without the added stress. At Peterson & Cammack Family & Cosmetic Dentistry, we offer nitrous oxide sedation to take the edge off your dental visits. To learn more about dental sedation and find out if it's right for you, give us a call!
Why Choose Peterson & Cammack Family & Cosmetic Dentistry for Sedation Dentistry?
Fast-Acting Sedation Ideal for Workday Treatment
Caring and Non-Judgmental Dental Team
Complete Basic Treatments Without Anxiety
Nitrous Oxide Sedation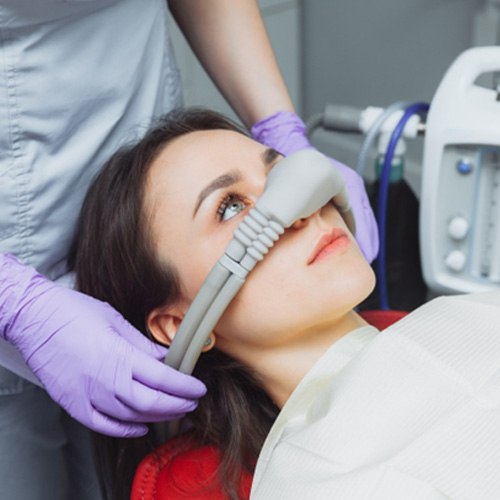 Nitrous oxide is the most common sedation method used in dentistry. It is regularly called "laughing gas" due to the euphoric feeling that patients experience when it is used. This type of sedation is administered alongside oxygen through a special mask that is placed over your nose during your treatment.
Nitrous oxide is an excellent anxiety reliever and will help you to feel relaxed during your procedure, but you will remain conscious and be able to easily communicate with the dental team when necessary. While the gas is being administered, you may feel lightheaded or a tingling sensation in your arms and legs. Some patients report that their arms and legs feel heavy as well.
Your level of sedation will be adjusted accordingly during your appointment, and the effects of the gas will wear off after just a few minutes once the mask is removed. You can even drive yourself home after your appointment.