CEREC Same-Day Dental Crowns – Lacey, WA
Convenient, Durable Protection for Damaged Teeth
If you need a dental crown but are hesitant to spend weeks waiting for your restoration, we have good news for you. One-visit dentistry technology dramatically improves the process, which is why we offer CEREC same-day dental crowns in Lacey, WA. Forget the days when you needed two appointments with a temporary crown in between. To repair a damaged or severely decayed tooth, same-day dentistry is possible from Drs. Peterson and Cammack.
Why Choose Peterson & Cammack Family & Cosmetic Dentistry for CEREC Same-Day Dental Crowns?
No Need for Temporary Crowns
Solid Porcelain, Stain-Resistant Dental Crowns
Friendly & Knowledgeable Dental Team
When are Dental Crowns Necessary?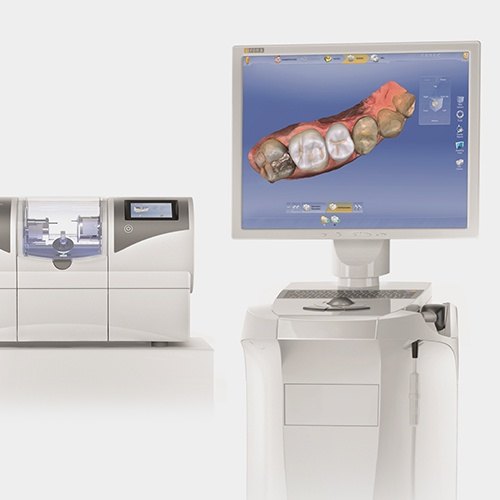 A dental crown is a tooth-shaped covering that fits directly over a damaged tooth. Sometimes called a cap, it completely surrounds the affected tooth down to the gum line. Dental crowns that are made from natural-looking ceramic blend flawlessly with the surrounding tooth enamel, making them a suitable solution for teeth in the front of the smile, too.
Some of the most frequent applications of a dental crown include:
Restoring a tooth after significant decay
Holding together parts of a broken tooth
Restoring strength to a weak or worn tooth
Making cosmetic improvements
As the final step in root canal
For sturdy tooth replacement
Traditionally, the process for a dental crown requires two visits to the dentist with a week or two of waiting in between. The permanent crown is manufactured in the meantime -- and a temporary crown covers the affected tooth. Unfortunately, the temporary crown may break easily, requiring yet another visit to the dentist.
CEREC (chairside economical restoration of esthetic ceramics) significantly reduces the time it takes to create your dental crown. In just one visit, your dentist in Lacey can efficiently prepare for, manufacture, and place your restoration, all from the comfort of our state-of-the-art dental office.
The Process of Getting a CEREC Same-Day Dental Crown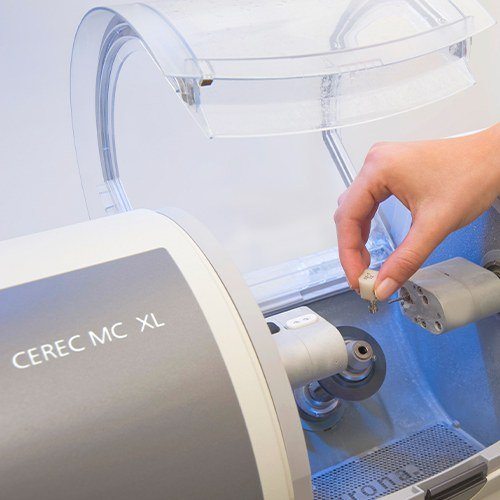 CEREC uses digital impressions to recreate a 3D image of your oral anatomy. After your doctor has removed any decay and reshaped your tooth enamel in preparation for its crown, the images are captured. Digital impressions are far more comfortable than the traditional method, which may be all but intolerable for patients with sensitive gag reflexes.
Once we have a digital model of your tooth and its surrounding structures, we'll transfer the digital blueprint to our in-office milling machine. Then, in less than half an hour, your dental crown is manufactured from a single block of porcelain.
The Benefits of CEREC Same-Day Dental Crowns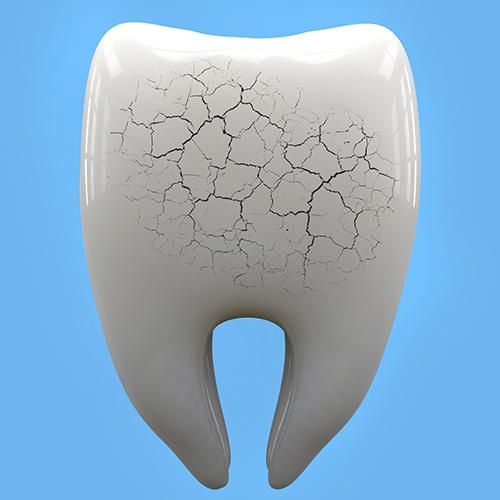 The benefits of CEREC same-day dentistry are significant. Some of the most apparent include:
Save time, vacation, and sick days by getting your crown in just one visit to the dentist.
Digital impressions are far more comfortable than the traditional method.
Highly accurate digital imagery improves the planning process for better results overall.
Porcelain crowns blend beautifully with the surrounding tooth enamel.
If you're interested in receiving a same-day crown in Lacey, please don't hesitate to reach out to our friendly team to schedule an appointment!
CEREC Same-Day Dental Crown Frequently Asked Questions
As you prepare to receive a CEREC dental crown, you may feel excited about the opportunity to have a fully restored smile in just one appointment. You may also still have many questions about the process and what life will be like after having your customized restoration secured into place. Fortunately, our team at Peterson and Cammack Family & Cosmetic Dentistry is here to help! Below you will find a list of common questions asked by our patients. If you do not see your question listed below, please do not hesitate to contact a member of our team.
How long will a CEREC dental crown last?
Just because CEREC crowns are quick to produce doesn't mean they lack durability. As long as you commit to taking proper care of your teeth at home as well as maintain your regular dental checkup and cleaning appointments, you can expect your customized restoration to last many years. Its durability and strength allow you to feel more confident when eating, speaking, and smiling.
Will a CEREC crown look natural?
Yes! At Peterson and Cammack Family & Cosmetic Dentistry, we believe in using only the very best materials possible. During the planning phase of treatment, our team will work to match the shade of your new tooth to your remaining tooth enamel. Because these dental crowns are made of porcelain, you can expect your restoration to blend in with the rest of your smile, making it virtually impossible for anyone to tell a difference between your real and artificial teeth.
How long should I expect my appointment to take?
One of the greatest benefits of choosing CEREC crowns is that you only need one appointment. Of course, you may be wondering how long this appointment will take, especially if your crown is being created while you wait. On average, you can expect to remain at our dental office for 1-2.5 hours. The process of creating the actual dental crown can take anywhere from 30 minutes to an hour, but don't worry, you are free to use your phone, bring a book, or even watch your favorite show while you wait.
Will dental insurance cover the cost of my CEREC crown?
Depending on your dental insurance plan, it is possible that your CEREC crown will be covered. Much of this is based on your insurer, whether you've met your deductible, and how much of your annual maximum you've used. Our team will be more than happy to review your policy and help you maximize your benefits so you can save the most money. If you prefer, we can also work on your behalf with your insurance company so that you get the answers you need to make the right decision for your dental health. If your insurer does not cover the cost or you need help to pay the remaining out-of-pocket expenses, we accept Visa, MasterCard, American Express, Discover, and accept payment through CareCredit, which is a third-party financier that offers low and no interest payment plans.