Traditional Braces – Lacey, WA
Trusted & Individually-Tailored Orthodontics
Do you want to straighten teeth in Lacey, but aren't sure what orthodontic treatment is the best choice for your unique situation? At Peterson & Cammack Family & Cosmetic Dentistry, we understand that every mouth is different, which is why we offer more than one solution to fix bite alignment problems, align teeth, and close gaps in your smile. With traditional metal braces, we're able to help you achieve a flawlessly aligned grin and improve your oral health. That way, your mouth can function perfectly. If you're interested in learning about how our custom-tailored orthodontic procedures can help you achieve your dream smile, contact our dental office for a consultation today to discuss traditional braces in Lacey, WA!
Why Choose Peterson & Cammack Family & Cosmetic Dentistry for Traditional Braces?
Orthodontic Treatments for Teens & Adults
Flexible Additional Financing Available
Team of Two Experienced Dentists
How Do Traditional Braces Straighten Teeth?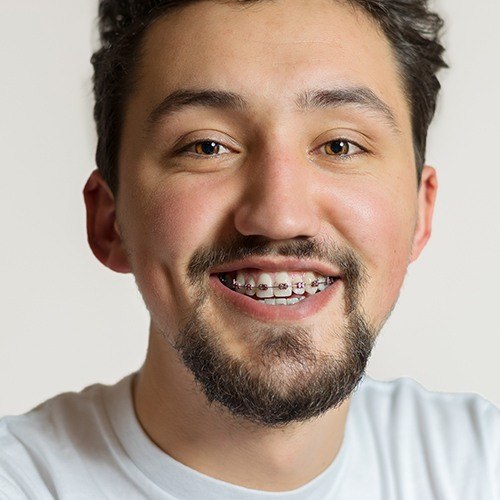 Orthodontic treatments like traditional braces work by applying strategically placed pressure on certain areas of your mouth to slowly shift teeth into their ideal positions. Metal braces are comprised of multiple components including brackets, orthodontic bands, spacers, and an arch wire, to name a few. During your first appointment, our team of dental professionals will place all of these pieces in your mouth and adjust them accordingly every month or so.
We will move the wires to place additional pressure on the brackets if they begin to get lose from the movement of your teeth. Over the course of your treatment, we'll do this repeatedly until each misaligned tooth has shifted into its ideal place in your mouth. For more complex cases such as bite problems, we may also include other components. After your treatment is complete, you'll need to wear a retainer to ensure that your adjusted teeth stay in place.
Who is a Good Candidate for Traditional Braces?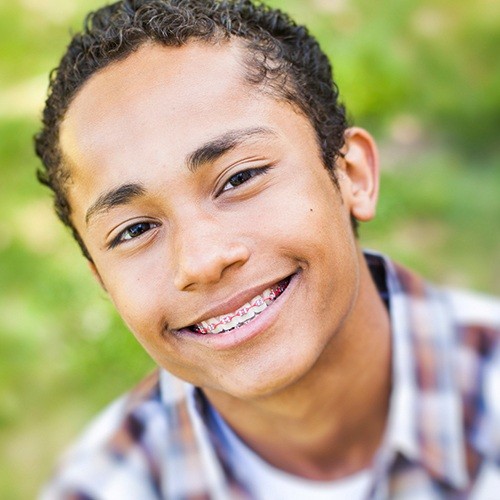 Whether you're a teenager or an adult, it's never too soon or late to straighten your teeth and improve your oral health. Traditional braces can address a variety of orthodontic problems that are mild, moderate, and complex. We typically offer patients traditional braces if they're looking to fix some of the following issues:
Uneven spacing
Crowded teeth
Overbite, underbite, open bite, and crossbite
Unmatched dental midlines
Issues with chewing and speaking
Jaw misalignment
The best way to learn whether you're a good candidate for metal braces is to visit your dentist in Lacey for a consultation. Our team will walk you through your unique treatment plan and discuss what results you'd like to achieve after the procedure.
What are the Benefits of Traditional Braces?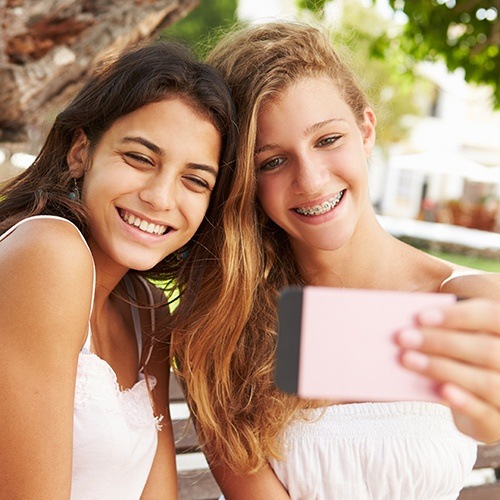 In many cases, traditional orthodontics are a more effective and efficient solution. Here are some benefits you can enjoy when you get this cost-effective treatment:
Strength: Metal is a strong material compared to ceramic and plastic, which are easier to break or damage. With traditional braces, you can reduce your risk of unexpected mishaps over the course of your treatment that set your timeline back.
Affordability: Traditional braces remain one of the most affordable orthodontic treatment options.
Versatile Treatment: Unlike other treatments, metal braces can tackle some of the most severe cases of misalignment, crowding, and bite problems, making them one of the most versatile solutions.
Customizable: There are several different designs and colors that you can customize your metal braces with, adding some fun and variety into your treatment.
Faster Treatment: You can treat complex issues more quickly with traditional braces.
If you're on the fence about whether you would like to get traditional metal braces or you have any questions about the process, don't hesitate to contact our dental office. Our team of friendly professionals will be more than happy to schedule a consultation so you can feel confident in your decision to straighten your smile with traditional orthodontic treatment.