Teeth Whitening – Lacey, WA
Professional, Effective, & Safe Professional Teeth Whitening
We've all seen the commercials. People taking the "tissue test" or looking at their yellow smiles as they pose in a bright white wedding dress. A brighter smile is on many patients' wish lists, and at Peterson & Cammack Family & Cosmetic Dentistry, we're happy to provide a safe, budget-stretching, effective teeth whitening system for our patients. If you've already tried all the DIY teeth whitening plans and store-bought strips, gels, and pastes, it's time to trust our team of dental professionals to brighten your smile with professional teeth whitening in Lacey, WA.
Why Choose Peterson & Cammack Family & Cosmetic Dentistry for Teeth Whitening?
Clinically Proven Teeth Whitening Treatments
Experienced Cosmetic Dentist
Flexible Additional Financing Available
Store-Bought Teeth Whitening Kits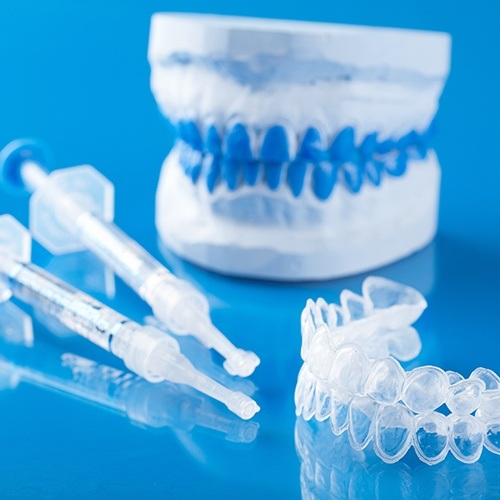 You can find a wide range of teeth whitening products that promise dramatic results in your local retail stores. In fact, take a look next time you're in a pharmacy or grocery store. You'll likely see shelf after shelf of whitening strips, gels, pastes, and mouth rinses. Unfortunately, these products aren't able to deliver the promised results in most cases. The reason for this is twofold. First, the FDA regulates these products. For patient safety, they are only able to contain an extremely low dose of active whitening agent. That means these whitening products are ineffective at removing most stains. Second, the application methods are not effective. If whitening gel is accessed by saliva, it becomes almost immediately neutralized. Over-the-counter whiteners are typically only active for about one minute. That means most of the time you spend with a mouthful of goop is wasted! Additionally, if the whitening gel seeps onto your gums, it can damage the soft tissue leading to sores and sensitivity.
Benefits of Professional Teeth Whitening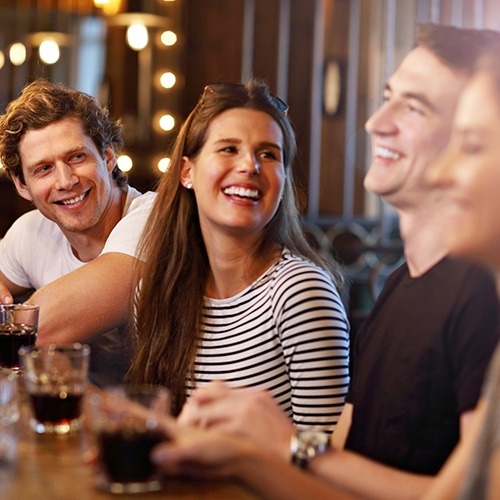 Rather than taking a chance on over-the-counter whitening products, consider a take-home teeth whitening kit that is customized to meet your unique needs. That all starts with a consultation with our friendly team. We'll examine your smile and determine the root cause of your dental discoloration. Some stains are not removable with traditional teeth whitening, and for these patients, we may recommend an alternative teeth whitening solution.
If we determine you're a good candidate for at-home teeth whitening, we'll take impressions of your teeth in order to custom craft alignment trays. Whitening gel is provided at the ideal dosage to remove stains from your teeth without causing dental sensitivity. We'll walk you through the application process and how long you should wear the whitening gel to ensure you achieve your desired results.
What to Expect from Professional Teeth Whitening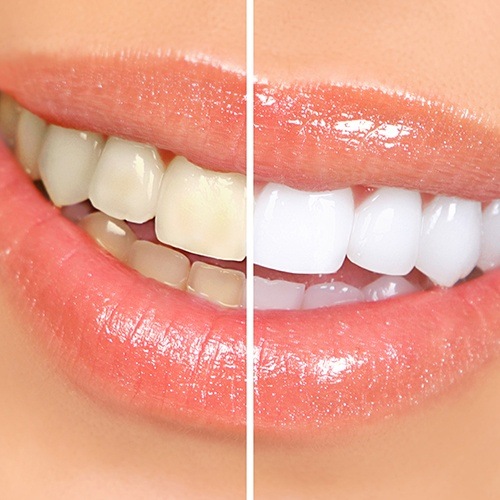 Patients often think they'll see immediate results with professional teeth whitening, but one of the benefits of take-home plans is that the change is gradual. Take home whitening requires patients to apply their whitening gel as directed for about two weeks. Another myth we hear is that the results of teeth whitening are permanent. Unfortunately, teeth will stain again over time for the same reasons they became stained originally (coffee drinking, eating dark colored foods, etc). Luckily, you can get new whitening gel for your take home kit to touch up your results in just a few applications. We recommend patients complete maintenance applications a few times a year.
Understanding the Cost of Teeth Whitening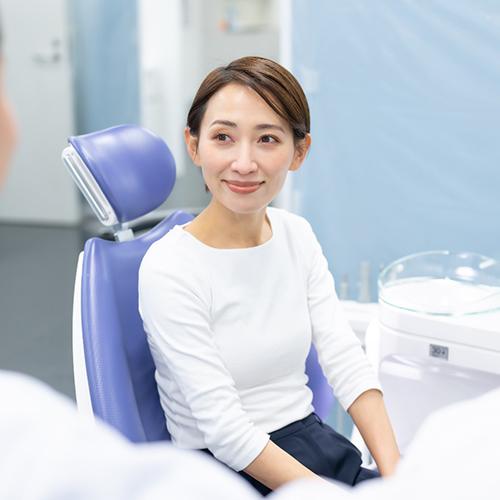 There are hundreds of different teeth whitening methods out there, all with varying price tags and the ability to achieve a breadth of results, some transformative and others not. Despite professional teeth whitening in Lacey having a higher cost than, say, store-bought whitening toothpaste, it provides virtually guaranteed results that are worth every penny! Our team also works with CareCredit, a third-party financer that provides monthly payment plans at little-to-no interest, to help you fit the cost of treatment into your budget.
Factors That Affect the Cost of Teeth Whitening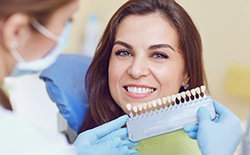 There are several different details that can impact the cost of teeth whitening in Lacey. While typically, treatment is a set price, here are some factors that could make the process of seeking out a brighter smile more or less costly:
The extent of staining could require you to need more than one treatment to achieve your desired shade of brightness.
If you require preparatory services, like treatments for cavities, gum disease, or a routine checkup and cleaning, these will incur separate fees. It's important to make sure your oral health is on track before undergoing a cosmetic procedure, so you can rest-assured that your results will last.
If you have restorations like veneers, crowns, bonding, or fillings, these won't whiten alongside your other teeth. For this reason, it's best to get teeth whitening at the same time that you have these replaced so your smile looks seamless.
Comparing Pricing for Different Teeth Whitening Options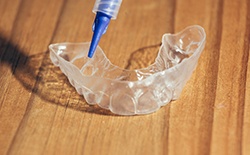 Here's a breakdown of the different costs of teeth whitening treatments available to you so you can make an informed choice on how to brighten your smile:
In-office whitening can cost between $400 and $800
Take-home professional teeth whitening can cost an average of $200-$300
Store-bought whitening trays are typically less than $100
Strips, gels and whitening toothpastes can be purchased at most grocery stores for between $10 and $40
Weighing Professional & Store-Bought Whitening Treatments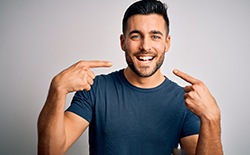 There are hundreds of different products available to you that promise they can brighten your smile, some less expensive than others. However, with professional treatment from a cosmetic dentist in Lacey, you'll be able to rest assured that the results you can achieve are virtually guaranteed, have the ability to last for up to a year, and are safe for your smile.
Making Teeth Whitening Affordable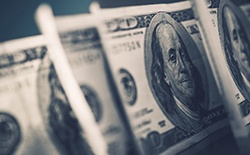 Teeth whitening isn't typically covered by dental insurance plans. Fortunately, if you're concerned about the cost of treatment, we work with trusted, third-party financer, CareCredit, to make payment easier. Upon approval, you can establish a monthly payment plan at little-to-no interest, making fitting the cost of teeth whitening into your budget easy.
Teeth Whitening FAQs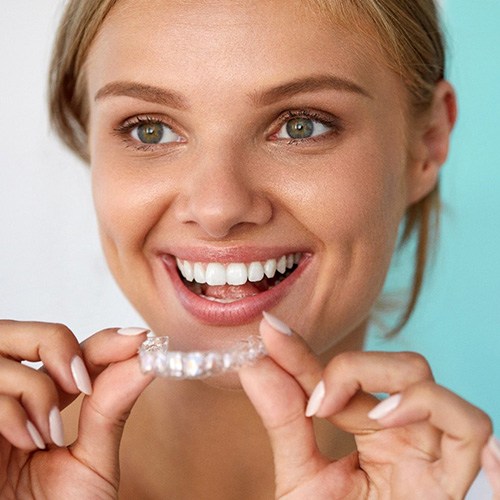 Teeth whitening can make a massive difference in how you look and feel very easily, which is part of why it's such an appealing treatment for a wide variety of patients. A lot of the time, teeth whitening is a patient's first experience with cosmetic dentistry, which means that they naturally have a lot of questions about what the procedure is going to look like.
Here are some examples of questions we get a lot, along with some answers that might put you at ease before the treatment.
Does Teeth Whitening Damage Enamel?
One of the benefits of professional teeth whitening is that both the trays and the concentration of the whitening solution will be perfectly attuned to your needs. As a result, there's no chance of professional teeth whitening damaging healthy enamel.
If you have tooth decay or gum disease, the whitening solution may potentially be irritating. We will perform a thorough exam before beginning treatment to make sure that isn't a concern. It's also the case that overusing whitening solutions can pose significant problems, so you should make sure not to use them without consulting us first.
How Long Does Teeth Whitening Treatment Take?
Typically, take-home whitening is done over the course of a few weeks. If your stains are more severe, it may take a little bit more time to get the results that you're looking for. Be sure to tell us if the treatment isn't as effective as you'd like—instead of having you overuse your whitening solution, we'll craft one better suited to you.
If you have an event coming up that you want to be camera-ready for, tell us so that we can ensure that you'll be prepared in time.
Is Teeth Whitening Permanent?
Unfortunately, teeth whitening isn't permanent. While the results can last for a surprising amount of time given the ease of the treatment, they will fade eventually.
You can expect the results from teeth whitening to last anywhere from a few months to a few years. If you want to extend that time, you should keep up with your dental hygiene and avoid foods that stain teeth, like coffee or red wine. And be sure to see us for regular checkups—we can polish stains off of your teeth and give you touch-up treatments if you need them.
Does Teeth Whitening Work on Dental Crowns?
Dental crowns are made of either metal or ceramic, both of which are much less porous than your natural enamel. As a consequence, whitening solution won't be effective on them. Moreover, whitening gel may actually weaken the bond of your restoration, you should be sure to tell us whether you have any restorations or not.
Thankfully, your restoration is naturally resistant to stains, meaning that as long as you take care of it, it'll naturally stay white longer than your other teeth. And if you're ever unhappy with the color of your restoration, you can talk to us about replacing it.