Dentures – Lacey, WA
Tried-and-True Tooth Replacement
For patients who've experienced advanced tooth loss, partial and full dentures offer a reliable restoration option. It's important to replace missing teeth to ensure your smile looks, feels, and functions naturally. At Peterson & Cammack Family & Cosmetic Dentistry, we offer a wide range of restorative dentistry services that are customized to fit your needs. If you have questions or need help repairing your smile following advanced tooth loss, call our Lacey dental office to schedule a tooth replacement consultation today. We'll evaluate your current state of oral health, explain your treatment options, and help you put the smile back on your face with dentures in Lacey, WA.
Why Choose Peterson & Cammack Family & Cosmetic Dentistry for Dentures?
Customized, Natural-Looking Dentures
We Proudly Accept Dental Insurance
Experienced & Friendly Dentists
The Importance of Replacing Missing Teeth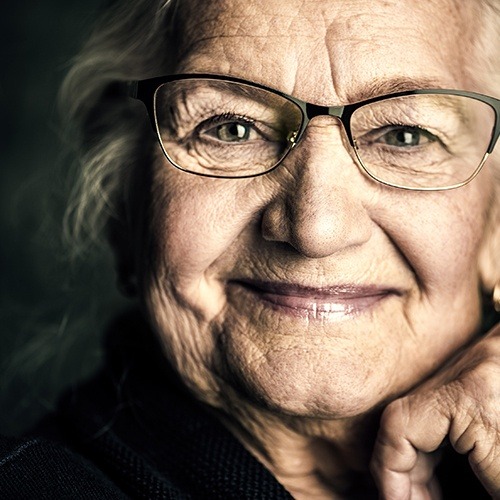 Without your teeth, basic daily functions like chewing, speaking, or smiling can be difficult. Even one missing tooth can cause concerns. When left unreplaced, a single missing tooth will allow surrounding teeth to shift to fill in the gap. Additionally, the supportive bone and gum tissue structures will begin to breakdown without stimulation from tooth roots, which can lead to further tooth loss. By replacing a single tooth, our team can often prevent further tooth loss, but if you've already experienced advanced tooth loss, it's still essential that you repair your smile to ensure you're able to eat a variety of foods, speak clearly, and smile confidently.
Types of Dentures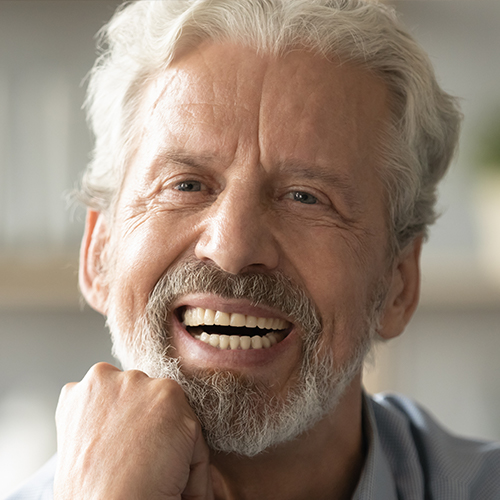 If you're missing several or all of your teeth along an arch, our full or partial dentures can help restore your arch and improve your quality of life.
Partial Denture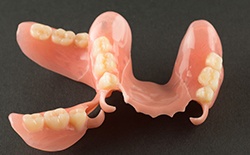 Partials are used to replace numerous missing teeth while preserving healthy tooth structure. The partial is crafted using a gum-colored base material to support numerous replacement teeth. The prosthetic is attached to surrounding healthy teeth using metal clasps to support the partial denture.
Full Dentures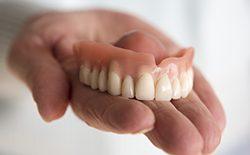 Similar to partial dentures, full dentures use a gum-colored base material to support the full row of replacement teeth. Because there are no remaining healthy teeth to support the restoration, the denture is formed to fit against the gum line. The snug fit between the denture and soft tissue creates suction that holds the denture in place. Some patients also use a small amount of denture adhesive to improve the stability of the full denture.
Implant Dentures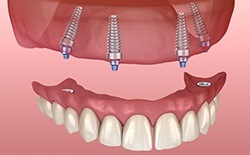 If you want to improve the stability of your tooth replacement prosthetic, an implant denture may be a good option. Dental implants are posts inserted below the gum line. They mimic the natural function of lost root structures and provide support for any number of replacement teeth.
Caring for Your New Smile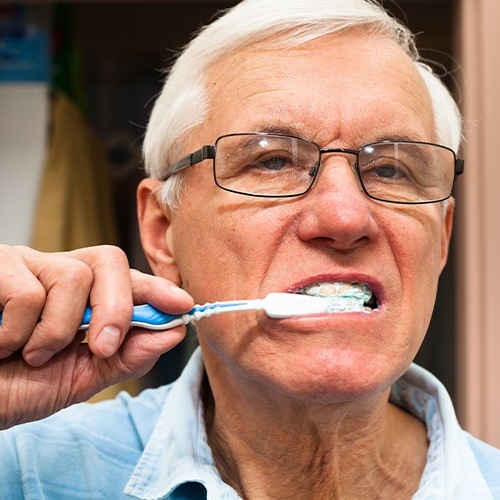 Whether you have a traditional or an implant-retained denture, you still need to maintain good oral hygiene. While your denture may not decay like natural teeth, plaque and tartar buildup can damage remaining dental structures and increase your risk for tooth decay or gum disease. If you have a removable partial or full denture, you'll need to brush your denture using ultra soft bristled toothbrushes and minimally abrasive toothpaste. You can even purchase a specialized denture toothbrush. When you're not wearing your removable denture, it should always be stored in cool water or cleaning solution. You will also need to gently brush any remaining teeth and gum tissue.
Antimicrobial oral rinses may improve your gum health and prevent other oral health concerns. If you have an implant-supported partial or full denture, you'll need to brush your teeth each day. Use a soft or ultra soft toothbrush and minimally abrasive toothpaste. Depending on your unique case, we may recommend other at-home care methods to keep your new smile healthy. It's important to maintain your bi-annual dental checkups and cleanings with our team so we can examine your dentures and make adjustments as necessary to maintain your optimal oral health.
Denture Frequently Asked Questions
You're likely to have plenty of questions when the time comes to get dentures, and Dr. Peterson and Dr. Cammack have the answers you need. You'll rely on your dentures to perform all sorts of essential everyday tasks, so it's important you voice any concerns you have now in order to make sure you can adjust smoothly later down the line. Here are just a few of the questions that might be on your mind when it comes to dentures.
What is the process for getting dentures like?
Getting standard dentures can take a few weeks and multiple appointments. First, we'll perform any necessary extraction. We then take an impression of your gums (as well as any remaining teeth in the case of partial dentures). It will also be necessary to measure your bite to make sure your dentures line up properly once you've received them. Once your false teeth are complete, you'll come back to our dental office one last time to pick them up.
If you've decided to support your dentures with implants, then we'll need to complete the process of placing the posts in your mouth and giving the jaw a chance to fuse with them before we move on to designing and placing the prosthetic
What is it like to have new dentures?
Most oral appliances feel somewhat odd in your mouth when you first receive them, and dentures are no exception. Your mouth will produce more saliva than usual, although this will pass given enough time. Speech impediments are common but can be overcome, especially if you take the time to practice (Reading out loud can be an effective exercise). Chewing tougher foods will be a challenge until the gums become used to your new teeth. Until then, cut your food in to smaller pieces and avoid hot or hard foods altogether.
You may notice some sores develop in your mouth soon after dentures are placed. There's no need to panic, as this is normal. However, you should give us a call if the pain becomes severe or doesn't go away over time.
Will my dentures come loose?
Traditional full dentures will be custom designed to fit on your gums. However, as the years go by, the underlying tissue and bone might shrink, and your dentures could become loose. This means they can slip at inconvenient or embarrassing times. Ill-fitting dentures can be relined and readjusted. However, at some point once the bases are too far gone, you may need to get new dentures.
Do I need to remove my dentures at night?
If you have traditional full dentures or partial dentures, it's highly recommended you take them out before you go to bed. Your gums will be under constant pressure from supporting your dentures throughout the day; removing your false teeth at night will give your mouth a chance to rest, and the area can be cleansed by the tongue and saliva. Of course, if you have implant dentures, they'll be permanently fixed in your mouth and can be left there without issue.