January 12, 2018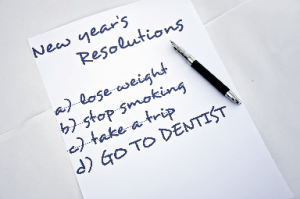 As the new year gets underway and you spend time setting new goals for yourself, is a healthy smile at the top of your list? While you make plans to improve your health or to become more financially stable, it is also a great time to establish dental resolutions. In addition to visiting your dentist in Lacey, there are simple changes you can make to promote a healthy smile this year.

Brush Twice a Day
It is recommended that you brush your teeth twice a day; however, 1 in 4 adults do not do so. It is easy to skip brushing, especially at night because after a long day, you just want to crawl into bed. No matter how tired or busy you may be, it is important to invest in your oral health by brushing twice a day.
It is best to use a soft-bristled toothbrush that accommodates the size of your mouth to clean all surfaces of your teeth and your tongue. Use a fluoride toothpaste to brush for two minutes each session to ensure that you are removing food particles and biofilm from your teeth.
Floss Every Night
Even with the best brushing habits, there are still areas in your mouth that your toothbrush cannot reach, which is why it is important to floss every day. Flossing removes harmful bacteria and plaque from in between the teeth and around the gum line that can cause gum disease. With 50% of adults suffering from a form of the infection, it is best to remain proactive about your gum health.
Use a dental floss that has earned the American Dental Association's Seal of Acceptance to clean in between each tooth. Insert the floss between 2 teeth to form a "C" shape. Gently slide the floss down to the gum line and back up to the crown.
Visit Your Dentist Twice a Year
Even if you do not currently have a dental concern, you need to see your dentist every 6 months for a cleaning and checkup. Your dentist will clean areas that you cannot reach at home, like below the gum line. They will also perform an examination to monitor your dental health to detect areas of concern sooner for quick intervention.
Get a Beautiful Smile
In addition to the health of your teeth, their appearance is equally as important. If you are ready to revamp your confidence with an attractive smile, your cosmetic dentist in Lacey offers the effective solutions that you need.
Invest in Your Smile
This year, take the time to invest in your oral health with simple dental resolutions. With a renewed commitment to your teeth and gums, you will achieve a healthy, beautiful smile.
Comments Off

on Easy Dental Resolutions from Your Dentist
No Comments
No comments yet.
RSS feed for comments on this post.
Sorry, the comment form is closed at this time.