February 27, 2019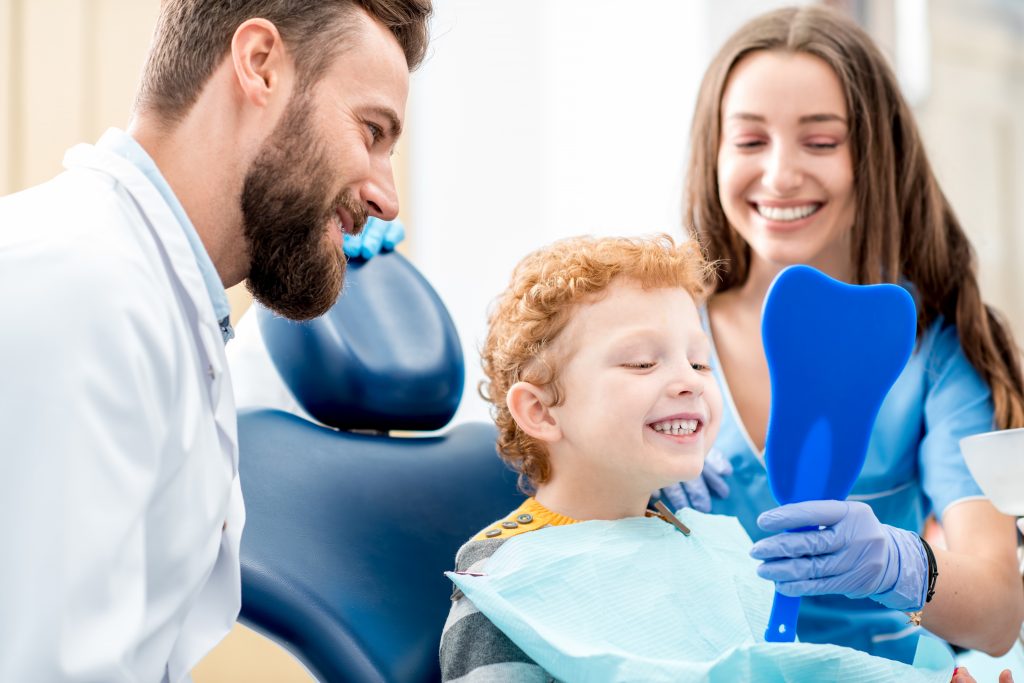 "Brush and clean in between to build a healthy smile." That's the campaign slogan for the 2019 National Children's Dental Health Month, which is right now during the month of February. So, there's really no better time to schedule an appointment for your kids to see a pediatric dentistin Lacey. Read on to learn more about what you can do to ensure your children's oral health.
Healthy Mouths, Healthy Kids
Believe it or not, from the moment a child is born, oral hygiene is important. You may not see teeth yet, but they are there—hiding under gum tissue just waiting to erupt. That's why keeping a baby's mouth clean and healthy is so important. Here are a few tips:
Wipe delicate gums with a soft, damp washcloth after every feeding
Never stick your baby's pacifier in your mouth
As soon as you see that first little tooth push through the gums, it's time to start brushing
You should bring your child to a family dentist in Lacey for an initial visit within six months of their first tooth erupting or by the time he or she is one year old. After that, dental checkups should begin between the ages of two or three years old.
The Purpose of Children's Dental Checkups
Just like mommy and daddy, children need to have their teeth professionally cleaned. In addition, these regularly scheduled appointments allow the dentist to monitor their teeth and gums. Children are just as susceptible to cavities as adults—perhaps even more so, because they probably don't brush as well. Dental caries is a disease that can not only harm your child's smile, but also may lead to severe tooth infection or an abscess if not treated.
In addition, gum disease is not prevalent among children, but it certainly is not unheard of either. Gum health is important for everyone, so make sure to show your children how floss between their teeth.
Serve Healthy Foods
You certainly know that what your children eat every day has a tremendous impact on their physical health and well being. Did you know that their diet could also affect their oral health?
Foods such as crunchy vegetables, fresh fruits, milk, yogurt, hard cheeses, lean meats and fish and whole grains are all good for children's developing teeth. They are packed with the vitamins and minerals teeth need to stay strong.
On the other hand, snacks that are full of sugar or empty carbohydrates feed the oral bacteria that could lead to cavities. So be sure to limit snacks, and when kids are hungry between meals, offer healthy treats.
A pediatric dentist in Lacey will be glad to help you take care of your children's smiles. If it's time for a little one to have a checkup, call the dentist today.
About the Author
Dr. Venn R. Peterson earned his DDS degree from the University of Washington School of Dentistry. His colleague, Dr. Spenser Cammack, earned his DDS degree from The Ohio State University College of Dentistry. Dr. Peterson and Dr. Cammack are family dentists that are specially trained to care for the youngest smiles in your home.  To learn more about their practice, contact them through their website.
Comments Off

on See a Pediatric Dentist in Lacey for Children's Dental Health Month
No Comments
No comments yet.
RSS feed for comments on this post.
Sorry, the comment form is closed at this time.